ISO 5211-Compliant Pneumatic Actuator Instructions Move to QR Code
ISO 5211-Compliant Pneumatic Actuator Instructions Move to QR Code
21 April 2021
Notification of Change - SWANOC-006
Product Name: Pneumatic Actuator
Product Details: ISO 5211-Compliant Pneumatic Actuator Instructions Move to QR Code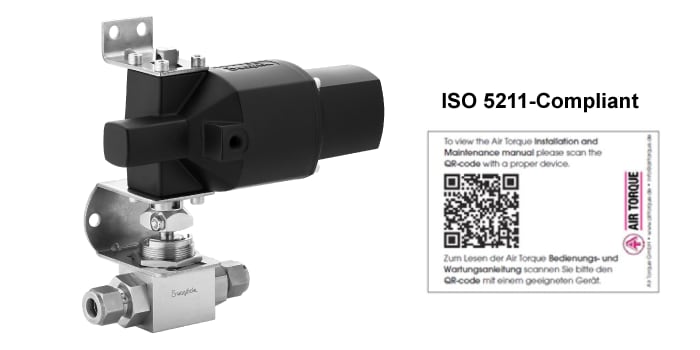 Description and Reason for Change:
ISO 5211-Compliant Pneumatic Actuator Instructions Move to QR Code
Effective April 16, 2021, the maintenance and operating instruction manual for Swagelok-branded ISO 5211-compliant pneumatic actuators manufactured by Air Torque will be available via a Quick Response (QR) code only. To reduce environmental impact, a small printout of the QR code will replace the leaflet included with the actuator/valve packaging. Non-MTS orders for specialized actuators will see this change immediately. MTS valve orders will transition to the QR code over the next three to six months, as inventory is consumed.
The following pneumatic actuator models are subject to this change:
: A10, A15, A30, A60, A100, A150, A220
: A15XD, A30XD, A60XD, A100XD
This change impacts the following ball valve product series with ISO 5211-compliant actuators:
: One-Piece Instrumentation Ball Valves—40G Series and 40 Series
: Ball Valves, General Purpose and Special Application—60 Series
: Trunnion Ball Valves—83 and H83 Series
: Swagelok Alternative Fuel Service (AFS) Ball Valves for High-Pressure, High-Flow Applications
: Multipurpose Ball Valves—SK Series
: Medium-Pressure Ball Valves—CTB/FKB Series
: General Service Ball Valves, GB Series
To access the manual, the QR code can be scanned via an IOS or Android device. An image of the QR code is shown below and the leaflet is attached for your reference. Please communicate this change with your customers that purchase ISO 5211-compliant pneumatic actuators.
Available Options: No option.
Effective Date: Immediately