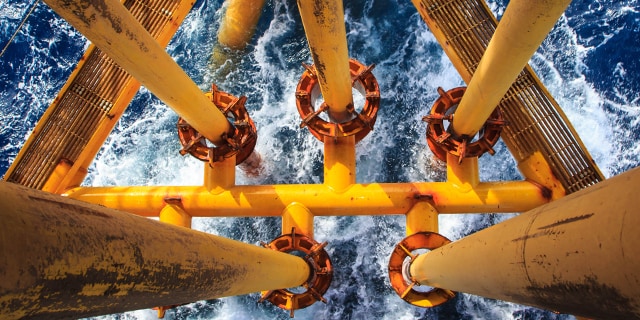 An offshore platform can have nearly 50,000 feet of tubing, more than 20,000 fluid system components, no fewer than 10,000 fittings, and as many as 8,000 mechanical connections.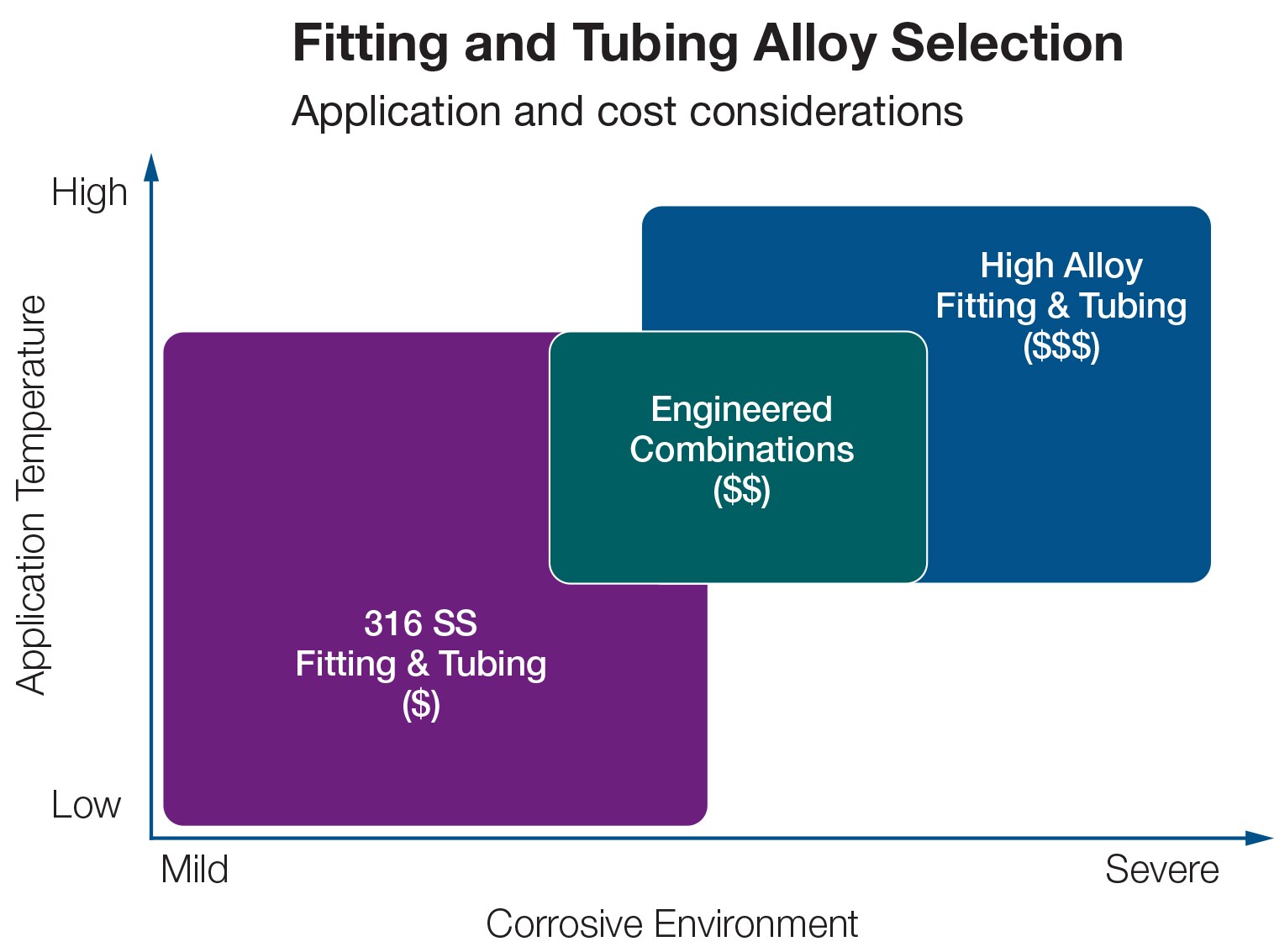 No wonder choosing one material isn't easy. In fact, there are many considerations when specifying materials for instrumentation lines, hydraulic power, chemical injection, deluge systems, and much more.
That's where Swagelok can help. We've been fighting corrosion since 1947. We simplify selection with our deep understanding of factors that contribute to corrosion, as well as the properties of materials that help fight it. We use alloys with at least two, but often up to ten different elements in optimized concentrations which give our materials superior corrosion resistance that helps our products perform better.
For instance:
Nickel [Ni] + Copper [Cu] = Alloy 400 (Monel®)
Iron [Fe] + Nickel [Ni] + Chromium [Cr] + Molybdenum [Mo] = 316 Austenitic Stainless Steel
With stringent quality control measures, expert-led instruction, and authorized sales and service center support, Swagelok offers unmatched expertise in the world's toughest environments. We make material selection a matter of confidence for our customers.
What is Corrosion?
Just about every metal corrodes under certain conditions.
Corrosion is the physical degradation of a material due to interactions with its environment. Corrosion occurs when a metal atom is oxidized by a fluid, leading to a loss of material in the metal surface. This loss reduces the wall thickness of a component and makes it more prone to mechanical failure.
Material Matters
Rust is a commonly occurring byproduct of corrosion, resulting from iron corroding and forming iron oxide. Many other types of corrosion exist, however. Each type poses a threat that must be evaluated when selecting the optimal material for your application.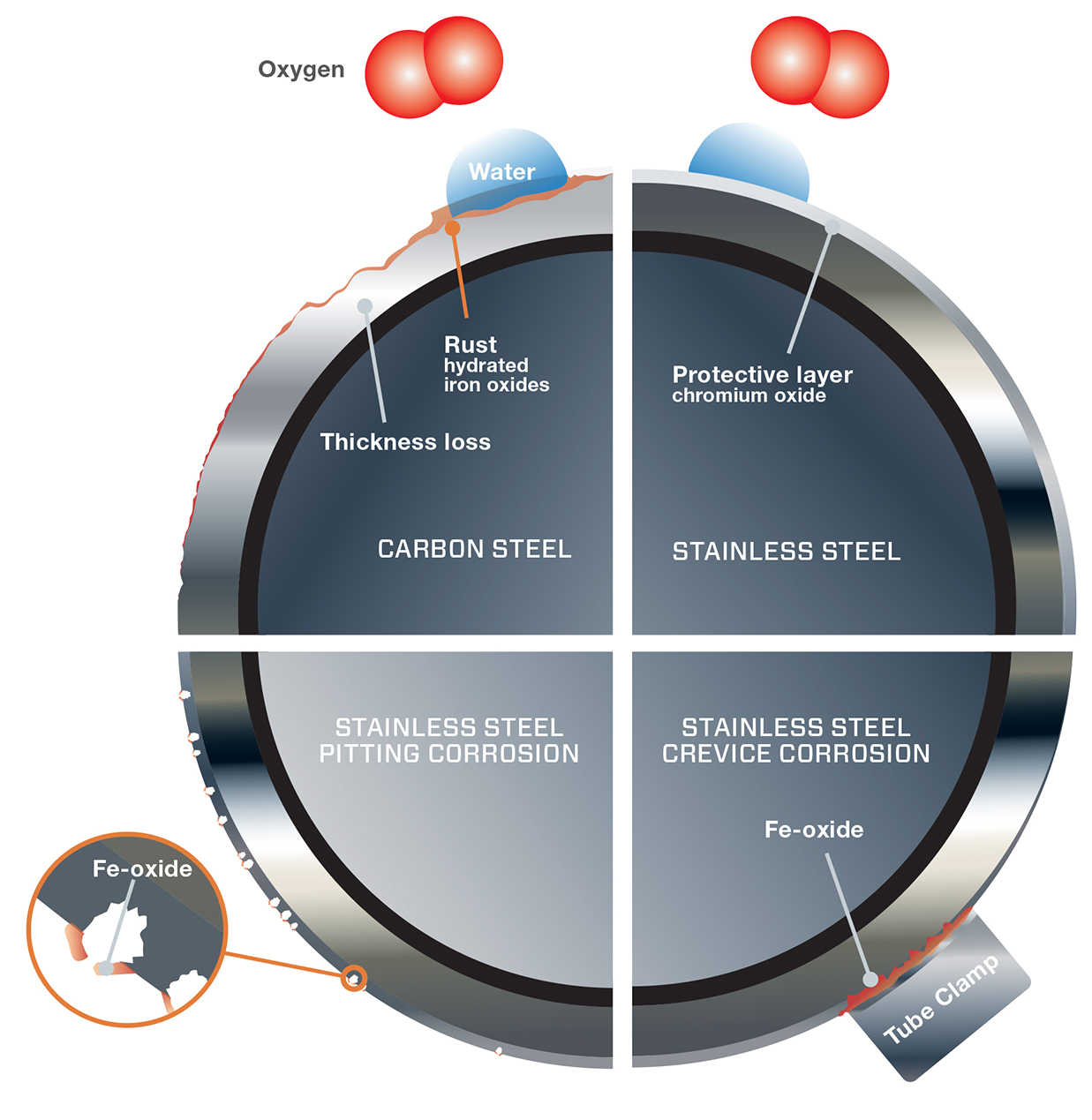 Take these steps to reduce the impact of corrosion on your applications:
Identify types of corrosion - what it looks like, where it occurs, and why it happens
Select materials resistant to corrosion
Minimize locations where crevice corrosion can occur
Avoid the contact of dissimilar metals, which can cause galvanic corrosion
Specify everything from the supports and clamps to the tubing it self to reduce the

potential for corrosion

Understand requirements and standards
Learn more through training
> View and download a print-friendly version of the Materials Selection Guide
Identifying Types of Corrosion
Finding a proper materials solution means starting at the source of the problem.
How many materials can you get Swagelok tube fittings in" Two? Five" Would you believe that our standard material list includes 16 different material from Nylon to Titanium
316 stainless is our most common material and is good for 95% of applications in northern Alberta but there are some limitations.
Special alloys
In the SAGD world on the water treatment side, there is often an elevated chlorine level in the boiler water. Chlorine and stainless steels don't mix well and it is common to find stress corrosion cracking in applications that have high chloride levels and stainless steel fittings and tubing. There are a number of other materials that we offer that can provide the necessary corrosion resistance in this type of application, like Monel, or our high temperature carbon steel.
This is just one application where we are able to help out with special alloys. Some of the other materials that we can provide include:
Teflon and PFA: PFA is the injection moldable version of Teflon. These materials provide for excellent chemical resistance to a wide range of different fluids. Water treatment facilities are large users of PFA and Teflon fittings.
Alloy 400, or Monel: This is a high nickel alloy that has excellent resistance to corrosion in reducing environments with fluids like hydrochloric, sulfuric and hydrofluoric acids. It is also a commonly referenced material when looking at NACE specs.
Inconel 625: A very corrosion resistant in oxidizing and reducing media. It offers high strength and good ductility. It also has very good performance in sour gas (NACE MR0175)
Hastelloys: C-276, C-22, B-2 are some of the grades that you can find, with C-276 being one of the more common alloys we deal with locally in this range. It offers excellent resistance to pitting and crevice corrosion and immunity to stress corrosion cracking.
Duplex stainless steels: A number of different materials are available here: 2205, 2507 super duplex and even the excitingly named 2707 hyper duplex stainless. Often seen in offshore applications these materials have higher strength than 316 stainless and may have better resistance to pitting, crevice and general corrosion.
Swagelok makes fittings, valves and other components out of a wide range of different materials and would be happy to work on your applications with you.
Selecting Materials Resistant to Corrosion