: Process Analyzer Sampling System (PASS) Subsystem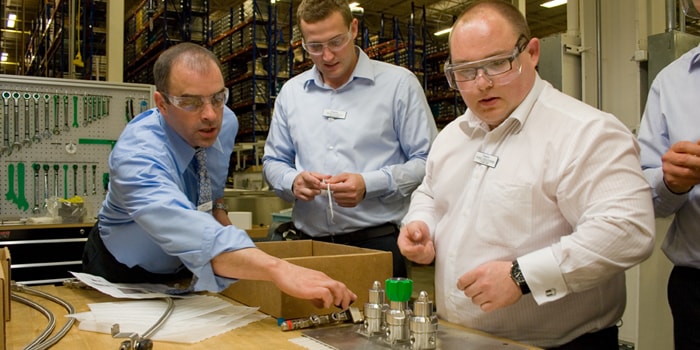 Process Analyzer Sampling System Subsystems Training
Swagelok® Process Analyzer Sampling System (PASS) Subsystem training courses will teach you how to sharpen your sampling system design skills. Develop an understanding of complex system subassemblies for process analyzer sampling systems, then learn how to design them and build them into complete, optimized sampling systems.
There are currently no courses currently scheduled, but training can be arranged through your local authorized Swagelok sales and service center
About the Course
Course content is derived from Industrial Sampling Systems, a technical reference book authored by industry expert and consultant Tony Waters.
This course provides a deep exploration of subsystem components and builds on Swagelok's Process Analyzer Sampling System (PASS) training; however, the PASS training course is not a prerequisite.
Topics
In this course, you will learn:
How to design five subsystems common to all sampling systems:

Sample extraction
Field preconditioning
Sample conditioning
Calibration switching
Sample disposal

How to assemble these subsystems into complete system designs or use them as analytical tools to assess and improve in-service systems
How to troubleshoot problem designs in the field or on the drawing board
Target Audience
Experienced sampling system engineers, design engineers, integrators, highly trained technicians, and industry professionals with a working knowledge of principles related to sampling system design and troubleshooting
Course Length
In-Person: Five business days at eight hours per day
Virtual: Ten business days at four hours per day
Your Instructors
Course instructors are experts at designing, installing, and maintaining sampling systems and include:
Tony Waters, Industry Expert and Consultant:
Tony brings over 50 years of experience with process analyzers and sampling systems to his numerous training programs, which have been presented in many countries. He has also founded three companies and has worked in engineering and marketing roles for an analyzer manufacturer, end user, and a systems integrator. Tony holds a bachelor's degree in systems engineering from The Open University, Milton Keynes, United Kingdom. He is an ISA Analysis Division Fellow.
Certified Swagelok Field Engineers
Swagelok field engineers located across the globe are certified to teach our sampling system training courses in languages including English, Spanish, Mandarin Chinese, Cantonese, and Bahasa Malaysian. These field engineers tap into their experience working with customers on sampling system-related matters to inform their teaching of Swagelok PASS and SSM courses.
How to Register
Reach out to your local authorized Swagelok sales and service center to request private, on-site training using the button below.