Gas Distribution System (GDS)
Ensure
your facility is running safely and
efficiently
Backed by 70-plus years of fluid system expertise and a global network of pressure control specialists, Swagelok® is uniquely positioned to provide gas distribution systems and pressure control advisory services that help you ensure your facilities and sites are operating safely and efficiently.
Swagelok gas distribution systems are:
• Designed with safety in mind to reduce the potential for gas leaks
• Intended to help maximize gas usage
• Fully assembled and tested prior to delivery to ensure reliable performance
• Easy to maintain and troubleshoot
• Assembled using high-quality, standard Swagelok components to provide reliability and reduce lead times for replacements
• Designed and labeled for standardization to reduce training and make operation safe and easy to understand
• Covered by the Swagelok Limited Lifetime Warranty
Gas distribution is a critical function for many industrial, research, and production facilities. Safely, reliably, and effectively delivering gases to where they are needed provides the foundation for a well-performing operation. Gas distribution systems work to deliver gases from a high-pressure source to the facility at the pressure and flow rate required by each application. Most often built around one or a series of pressure regulation steps, gas distribution systems may have four typical subsystems: Source Inlet Connection, Primary Gas Pressure Control, Automatic Changeover, and Point-of-Use.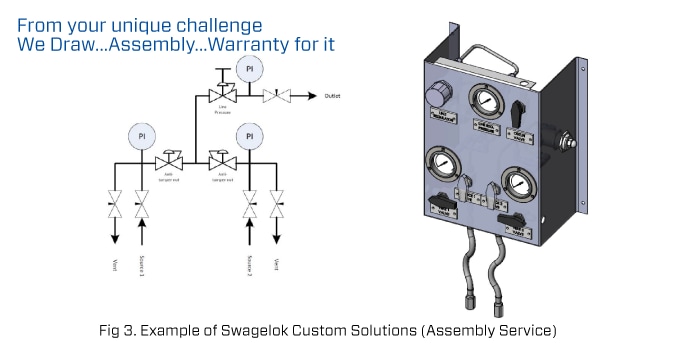 Save Time With Standard and Configurable Assemblies
Swagelok design, fabrication, and assembly experts have worked with businesses across the globe to add efficiency and reliability to their operations by delivering reliably designed and constructed fluid system assemblies. Standard assemblies we have developed include:
Standard
gas distribution assemblies:
Source inlet connection (SSI):
Establishes a connection between the
high-pressure gas source and the rest
of the gas distribution system.
Primary gas pressure control (SGP):
Completes the first pressure reduction
of the source gas to ensure the gas is
delivered at the correct pressure
within the system-required flow rates
to the next stage of the system.
Automatic changeover (SCO):
Seamlessly switches from one gas
source to another to ensure an
uninterrupted supply of gas.
Point-of-use (SPU):
Provides the critical last stage of
pressure control prior to the
gas being used.
download gas distribution system brochure
How Pressure Regulator Selection Affects Gas Distribution Performance
Properly sized and selected pressure regulators are a critical component of a properly functioning gas distribution system. There are a few aspects of performance that are most important when choosing a pressure regulator for one of these systems: droop, lock-up or seat-load drop, choked flow, and supply-pressure effect.
Droop, Seat-Load Drop, Choked Flow, and Supply-Pressure Effect
It is best to operate a pressure regulator along the flattest—or most horizontal—part of a flow curve. Indeed, an ideal flow curve would be a flat line. However, no pressure regulator can produce a perfectly flat line over its full range of pressures because its internal components have limitations.
Typically, a flow curve consists of three parts (Fig. 4): The ideal operating range, a relatively flat part in the middle
A steep drop on the far left, which shows seat-load drop or lockup
A steep drop on the far right, which shows the choked-flow area
Fig.
4.
This typical flow curve for a pressure-reducing regulator illustrates several phenomena, including the ideal operating range, droop, choked flow, and seat-load drop or lockup.
Link how pressure regulator selection effect GDS
Find more about our services
If you're short on manpower, Swagelok can provide an extra set of hands by fabricating your fluid system assemblies for you.
View and compare the performance of up to four different RHPS series regulators in your application.