Orbital Welding Training
Intensive, Hands-On Training for Maximum Results
Orbital Welding Training
Orbital welding is an automated process in which an electrode is rotated in an orbit around a part joint on a rotor using gears and motors.
Swagelok® M200 welding system, it's easy to make precise, consistent, quality welds. While automatic orbital welding can help you overcome issues related to widespread welder shortages, proper orbital welding training is essential to equip your emerging welders for success with our five-day orbital welding training course.
Swagelok Orbital Welding Training
For many decades, Swagelok has offered premium-quality welding tools. Today, our welding training emphasizes the theories and skills associated with Gas Tungsten Arc-based orbital Welding (GTAW) with both classroom and hands-on training in a four days course.
Because of the complexity of skills required to consistently achieve good orbital welds, new and experienced welders must be trained using cutting-edge techniques from qualified instructors. The techniques taught in this course can be applied to any automatic gas tungsten arc welding system.
Course Objective:
To gain an understanding of the Swagelok Welding System including weld schedules,
set up and operations to gain high quality orbital weld

What You'll Learn
This course will instruct the entry-level orbital welder and enhance the welding skill knowledge for the experienced orbital welder in the following areas:
•
Basic welding background information
•
Basic metallurgy for orbital welding
•
Shielding and backing purge gases and procedures
•
Setup and operation of orbital welding equipment
•
Industry weld specifications
•
Orbital weld evaluation
download brochure with course outline
Who Should Attend
•
Welders with orbital welding experience who wish to upgrade their skills or obtain ASME qualification
•
Welders without orbital welding experience who would like to learn the technique
•
Supervisors of orbital welding operations
•
Engineers who design systems that include orbital welding
•
Quality assurance and quality control personnel
Course Length 4-5 days*
* On the fifth day you can choose to test for ASME Section IX qualification if you need to fulfill QA/QC requirements.
Your Instructor
All of our instructors hold Certified Weld Inspector (CWI) and Certified Weld Educator (CWE) qualifications, as well as at least five years' experience in orbital welding instruction.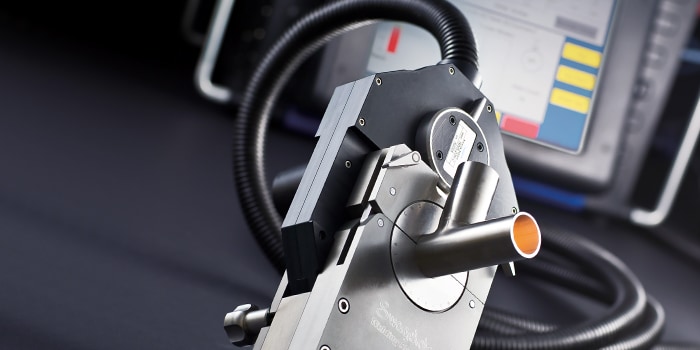 For projects requiring a consistent and efficient approach to welding, the Swagelok orbital welding system offers precision and control combined with easy-to-use touchscreen operation