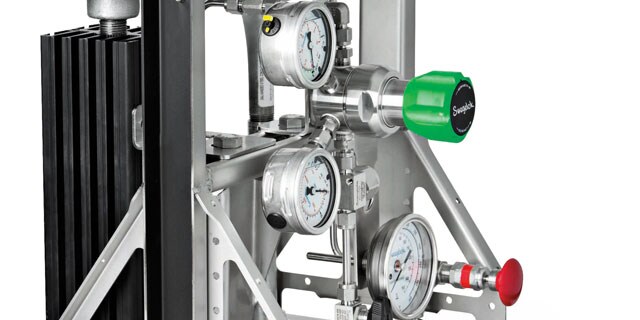 Analytical Subsystems
The oil, gas, and chemical industries use process analyzers to measure the concentration of key components in their gas and liquid streams. These analytical measurements must be reliable to maintain precise process control, which helps reduce costs and improves quality and safety. To ensure a useful analytical measurement, it is critical for extracted samples to be representative of what is in the process pipe and to reach the analyzer in a timely manner.
Pre-Engineered analytical subsystem are designed by engineering expert and field-tested design ensures optimum system performance.
System Safety
Removing a process sample for an online analyzer can be difficult to accomplish safely because the process often operates at high pressures and temperatures. Using a block-and-bleed valve at the sample tap allows proper isolation of the process fluid and venting of the analytical system
pressure through the bleed valve.
Sample Purity
To ensure proper analytical control, it is critical to extract a sample that is truly representative of the process media. Further, the sample must be free of any particles that will damage the analyzer. Extracting a sample by connecting a nozzle to a process line allows old process material and heavy particulate to enter the sample line and flow to the analyzer. On the other hand, installing a probe into the center of the process line helps ensure a representative sample is extracted; the probe also helps filter the process particulate.
Timeliness
To control a process effectively, an online analyzer must receive a sample quickly to enable timely process adjustments. Occasionally, a lengthy sample extraction process can render the sample useless before it even reaches the analyzer. One way to minimize time delay to the analyzer is to reduce the analytical system volume. Using a probe to extract a sample can greatly reduce system volume, as compared to collecting a sample with a nozzle.
Use Swagelok pre-engineered subsystems to create fully documented fluid sampling and control systems without the worry of acquiring and assembling multiple parts. For use in all types of plants and facilities where fluids are processed, our proven subassemblies minimize system footprints, simplify system design, and promote representative samples and accurate analytical results.
Learn about our sampling systems trainingthat can help you increase efficiency and save money.