NOC Exotic Alloy B Series Valves Being Discontinued
Swagelok Exotic Alloy B Series Ball Valve Being Discontinued
Product Name: Exotic Alloy B Series Ball Valve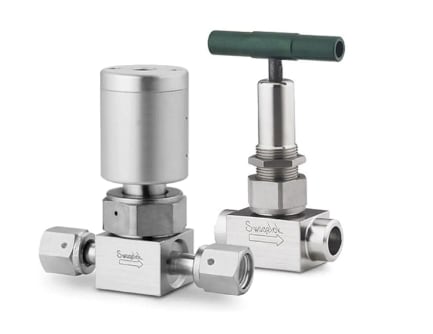 Description and Reason of Change:
As part of our continued review of products that support Swagelok's strategic plans, select exotic alloy B series bellows-sealed valves and kits will be discontinued once current inventory is depleted.
: 6B and 8B alloy 400 valves, fractional and metric.
: Select 4B alloy 400 valves. The specific ordering numbers are listed below.
: All B series valves with a stainless-steel body and alloy 600 bellows, fractional and metric.
Refer to Bellows-Sealed Valves, B Series, MS-01-22, for additional information on B series valves.
As an alternative, Swagelok offers U series bellows-sealed valves with alloy 600 bellows. U series bellows-sealed valves ordered with an alloy 400 body are assembled as standard with alloy 600 wetted components. Refer to the U Series catalog, Bellows-sealed Valves, U Series (MS-01-38), for additional material of construction information.
All acknowledged B series orders will be fulfilled. Please consider placing a last time buy order to support your customers through the transition. New requests will be fulfilled on a first-come, first-served basis until inventory is depleted, and orders may be subject to inventory availability. You may experience extended lead times as we fulfill these requests.
Impacted Ordering Numbers for 4B Series Alloy 400 Valves
M-4BMG
M-4BMW
M-4BRG
M-4BRG-SC11
M-4BRG-V51
M-4BRW
M-4BRW-TW
M-4BRW-V51
Available Options: U series bellows-sealed valves with alloy 600 bellows
Available Options: No option.
Effective Date: Once current inventory is depleted.
Unless otherwise noted, all changes are rolling changes and will take some time to flow through our global inventory. If you have questions regarding the impact of this change on your applications, please contact your local authorized Swagelok sales and service center representative. They, along with regional technology centers, and trained field engineers, are available to assist you.