: Consider Stainless Steel Tubing for Mechanical Seal Connections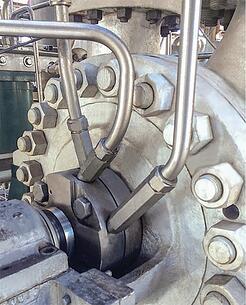 If, in days past, you have questioned why hard piping was used for mechanical seal flush lines and seal support configurations in process pumps, you are certainly not alone.
Chances are that this hard pipe requirement carries over from the days when pumps were packed with rope, horse hair, cotton and other materials.
More recently, however, American Petroleum Institute Standard 682 (API 682) began to endorse the use of tubing for some seal piping plans. Regrettably, tradition-bound purchasers still opt for hard pipe; we are asking them to reconsider.
API 682 (4th edition) now specifies seal support system connections almost interchangeably. The Fluid Sealing Association's Technical Director, Henri Azibert, graciously gave us an update on this topic, and agreed to pass our strong preference for tubing along to the API Task Force. Mr. Azibert pointed out that the API 682 (4th edition) text now offers considerable leeway: