: Push The Limit of ALD Technology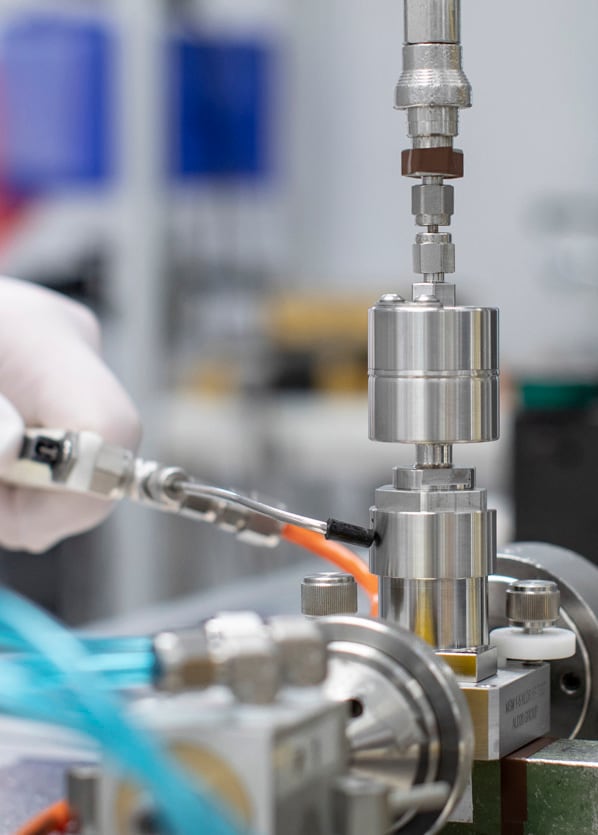 Push the Limits of ALD Technology
High flow. High temperature. High performance.
The next generation of semiconductor manufacturing starts here.
Today's cutting-edge semiconductor chip production processes demand materials and product designs that not only stand up to corrosive gases and extreme temperatures, but also provide precise dosing over tens of millions of cycles.
Speed, repeatability, and cleanliness are essential.
And it is not only the demands of today that matter. Forward-looking companies also need products that allow them to employ the low-vapor pressure chemistries and processes necessary to maintain a competitive edge in a quickly evolving technology market.
Substantial opportunity for improved efficiency, consistency, and innovation exists within the semiconductor chip manufacturing market. That is why Swagelok—the originator of atomic layer deposition (ALD) valve technology—has developed the ALD20 ultrahigh-purity (UHP) valve to provide semiconductor industry leaders with the precision and performance they need for next-generation ALD process applications.
Enabling what's next.
The patent-pending ALD20 valve design provides the reliability and performance that customers have come to expect of Swagelok ultrahigh-purity ALD valves while opening up opportunities to work with precursor gas chemistries that were previously challenging. The high flow capacity and thermal stability supported by ALD20 valves make it possible to consistently maintain the high temperatures and minimized pressure drop necessary to quickly deliver a broader range of compounds in a compact footprint.
As a result, semiconductor chip manufacturers adopting the ALD20 can now utilize more low-vapor pressure precursors, achieving the uniform deposition needed to develop today's most advanced technology and discovering competitive advantages for tomorrow.
Improved flow. Minimized footprint.
The new ALD20 UHP valve is specifically designed to extend the limits of ALD valve technology, enabling flow rates two to three times what can be achieved using today's standard ALD valve. These higher flow rates result in very low pressure drop across the valve, making low-vapor pressure precursor chemistry options more practical. In some applications, the ALD20 valve will allow manufacturers to take advantage of elevated flow rates to maximize process efficiency.
• The ALD20's compact 1.5-in. modular-surface mount footprint can deliver a flow rate of 1.2 Cv without requiring retooling of existing equipment or additional process changes.
• A standard body style ALD20 valve with a slightly larger footprint width (1.75 in.) can yield a flow rate of 1.7 Cv.
• Custom set flow coefficients are also available.
Uncompromising consistency.
The ALD20 offers ease-of-use improvements for ALD processes too. The valve and actuator can be fully immersed in a gas box up to 392ºF (200ºC). This enhanced thermal stability within process lines ensures low-vapor pressure gases are kept at temperatures conducive to optimal flow, allowing for consistent, high-quality deposition.
Other ALD20 features promote long-lasting, consistent operation as well.
• 316L VIM-VAR stainless steel or Alloy 22 body materials provide enhanced corrosion resistance to withstand increasingly aggressive media.
• A highly polished bellows with a 5 μin. Ra finish promotes clean operation over an ultrahigh cycle life for process integrity.
• A pneumatic actuator can deliver high-speed (<10 ms), repeatable actuation for precise, consistent flow to meet dosing requirements.
Unbeatable quality. Designed to fit.
The ALD20 valve is the latest example of Swagelok's commitment to quality, innovation, and continuous improvement, as well as the company's commitment to designing products that relieve its customers' greatest business pressures. It is available today in modular surface-mount configurations with two or three ports, in straight configurations with tube butt weld and male or female VCR® face seal fitting end connections, and in multiport valve configurations to optimize flow paths within existing or new systems. A high-temperature optical position sensor is available as an add-on component.