: Engineered Combinations Deliver Cost-Effective Solution for Special Applications

For more than 60 years, Swagelok has solved fluid system problems in some of the world's most demanding environments. In turn, we've developed a strong understanding of even the most complex applications involving high levels of corrosion potential, pressure containment, pitting, and sour gas – all good candidates for special alloys. These severe applications are often found in the oil and gas, chemical processing/refining, and desalination industries. But the knowledge we've gained in those tough environments will benefit you, regardless of what you produce and where you produce it.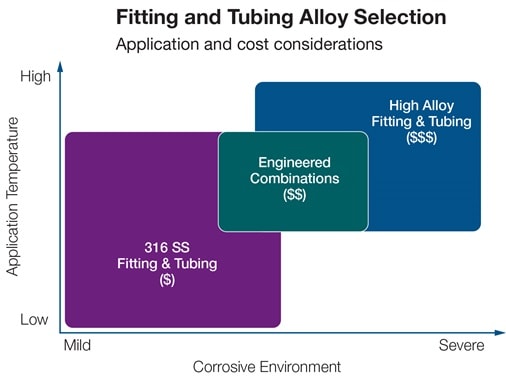 Engineered Combinations = Cost Savings
Although matching tubing and fitting materials is common practice for optimal system operation, the performance advantages of Swagelok 316 stainless steel tube fittings enable successful mixed-matched combinations, even in severe environments. These advantages include:
Higher chromium and nickel concentrations than standard 316 stainless steel for enhanced corrosion resistance

Superior tube grip achieved with Swagelok's patented hinging-colleting back ferrule design that translates axial motion into radial swaging action on the tube, yet operates with a low assembly torque requirement
As an example, the combination of Swagelok 316 tube fittings and alloy 254 tubing can provide an economical, corrosion-resistant solution for installations that might be exposed to sea water. Of course, there are a few vital considerations when mixing tube and tube fitting materials. First, the tubing material must always be softer than the fitting material to ensure correct fitting pull-up. Also, pressure ratings for tubing and fittings from different alloys will be governed by the lower material pressure rating.
More information about combined material available
We have a free download that provides the suggested allowable working pressure ratings of 316 stainless steel tube fittings with Alloy 28, 6Mo, 904L, Tungum and Alloy 825 tubing. The accompanying tables show working pressure ratings of tubing in a wide range of wall thicknesses. Swagelok tube fittings have been repeatedly tested in both the minimum and maximum wall thicknesses shown, and are not recommended for tube wall thicknesses outside the ranges provided for each size.
Figures and tables are for reference only and no implication is made that these values can be used for design work; applicable codes and practices in industry should always be considered. Also, no allowance is made for corrosion or erosion.